Regular price
$159.99 USD
Sale price
$64.99 USD
Unit price
per
Sale
Sold out
Extra Saving: Use Code: SAV20 to get the Best Discounts of the Year.;
(IMPORTANT!)Compatible With

Carlinkit 5.0: Works with more than 98% factory wired CarPlay/Android Auto cars. Supports Wireless CarPlay and Wireless Android Auto.

Carlinkit 4.0: Works with more than 98% factory wired CarPlay cars. Supports Wireless CarPlay and Wireless Android Auto.

Carlinkit 3.0: Works with more than 98% factory wired CarPlay cars. Supports Wireless CarPlay.

If you are using factory wired Android Auto, pls kindly check Carlinkit A2A.

If you are using Aftermarket Android car stereos, pls kindly check Autokit.

If your car doesn't have carplay or Android Auto, pls kindly check Touch Screen Player or Carplay Module.

If you want to use apps like Netflix or YouTube in your car, you can choose Carlinkit AI Box. 
Free Shipping & Easy Returns

Your order will be handled in within 24 hours. After your order has been in transit, you may receive an email noting that tracking information has been updated. Once the package has arrived, you should receive a physical confirmation of arrival.>> See more
30-Day Money Back Guarantee

We have a 30days return policy, which means you have 30 days after receiving your item to request a return.
Share
An Adapter Allows You Use Android Auto & Apple CarPlay Wirelessly in Your OEM Car Radio

*This adapter doesn't install external Android Auto or Apple CarPlay on your stock car head unit, please make sure your car has built-in Apple CarPlay.

Convert Your Wired Carplay to Wireless!
For daily driving, most of it is just a ten-minute trip. You don't need to always endure the pain of plugging in all the time. Our market-leading Carlinkit 4.0 U2W dongle will make your wired CarPlay wireless(via Bluetooth and Wifi), providing a completely wireless experience. No need to take the extra step to plug it in, it can sit in your pocket. Or, if you leave the phone in a bag, you don't have to fish it out.  


The world first powerful 2-in-1 wireless carplay & android auto adapter.
* CarlinKit 4.0 adapter is equipped with 5G processing chip, plus heat sink,Using carbon fiber material, better heat dissipation.Support GPS Navigation APP (real-time navigation),voice control, Siri, Online Music, phone call,music ,iTunes, or installed APP and access to messages. And support online updates, experience the latest version features at any time, Bringing you a safe and comfortable driving experience.
Connect your phone and hit the road now
* Tap to get driving directions or talk to send a text. Even call your mom, hands-free. Carplay/Android Auto is made to help you focus on the road. Just plug in and go.
Keep the original Control Mode
* The unit supports the original car steering wheel buttons, knob operation and voice operation. (Operation is the same as your original car).
Get rid of wires



* Connect your phone to the carlinkit device via Bluetooth. Keep your phone in your pocket and hit the road.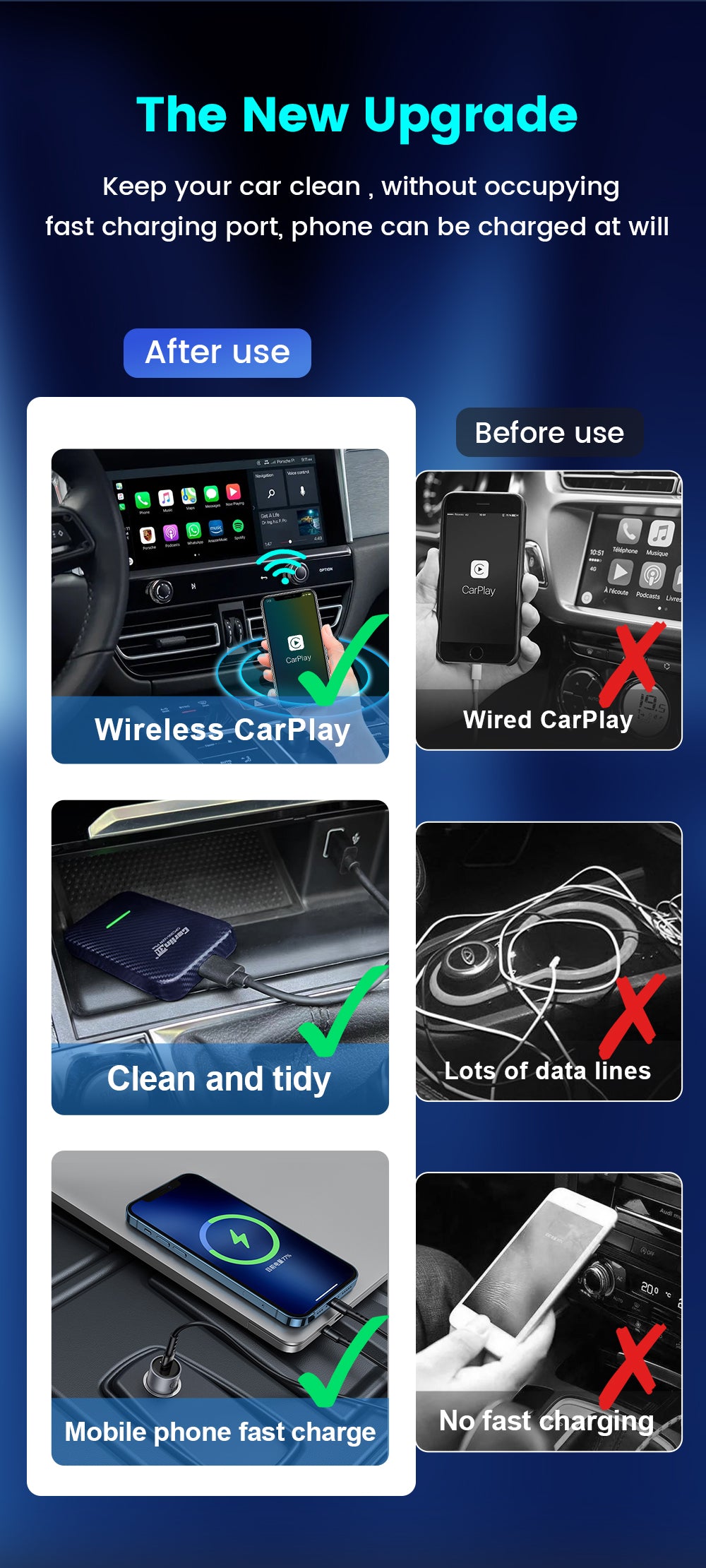 Plug and play, Small, Compact, and Unobtrusive.
* Connect your phone to the carlinkit device via Bluetooth. Keep your phone in your pocket and hit the road.
* Just fit inside the center console vertically or fix it with velcro in the glove box, then forget about it, it takes almost no space at all.
Brand new Carbon fiber shell
* The new model of Carlinkit 4.0 uses carbon fiber material, which scratches resistance and is anti-fingerprint. You no longer worry about the dongle falling to the ground and is scratched if the vehicle bumped while driving. It makes the device last longer, what is more, you can get a long-lasting driving companion for a small price.
Step 1 Plug the device with your car.
Step 2 Pair to Bluetooth.
Step 3 Connect and go.  
Product Specs:
CPU:Atmel AT91SAM9260
WiFi Module:

 

 NXP 88W8987
MFI:  MFI 3959/MFI 3989
Power Input:

 

 5V±0.2V

     

1.0A
Power Output:

 

 DC 5V±0.2V

     

1.0A
Power Consumption :0.75W
WiFi Frequency:5150-5250MHz,5725-5850MHz / 2412-2472MHz
Bluetooth Version :5.2  802.11ac
Antenna :3 dbi built-in FPC antenna
Material:ABS + PC      
Colour:Blue
Surface Treatment:

 

 Carbon fiber texture
Pressing Method :Buckle
Supported Mobile Phones:
iPhone wired/wireless connection:iPhone 6 and above,  iOS 10 and above version
Android phone wireless connection: Android 10.0 and above, some require Android 11.0 and above version Android phone wired connection: Android 6.0 and above version
Supported Vehicles :Car with factory wired CarPlay
Resolution:Adaptive (maintain the original protocol resolution)
Language:Automatically switch according to the vehicle language environment
Port :LED light、TYPE-C female port, USB female port
Date Cable: USB-A to USB-C*1  USB-C to USB-C*1    L=300mm
Product Size:  80×46×13mm
Package Dimensions:

 

115×80×36mm
Packing Gross Weight:

 

 0.126kg

Supported brands and manufacture years
(Vehicles must come equipped with factory CarPlay)
Abarth 2017-2023
Acura 2017-2023
Alfa Romeo 2018-2023
Audi 2017-2023
Aston Martin 2017-2023
Bentley 2017-2023
Borgward 2017-2023
Buick 2017-2023
Cadillac 2016-2023
Chevrolet 2016-2023
Chrysler 2017-2023
Citroen 2016-2023
Dodge 2017-2023
Ferrari 2016-2023
Fiat 2017-2023
Ford 2017-2023
Genesis 2017-2023
GMC 2016-2023
Harley-Davidson 2019-2023
Holden 2016-2023
Honda 2016-2023
Honda bikes 2018-2023
Hyundai 2015-2023
Infiniti 2020-2023
Jaguar 2017-2023
Jeep 2017-2023
Kia 2015-2023
Land Rover 2017-2023
Lexus 2019-2023
Lincoln 2017-2023
Maserati 2017-2023
Mazda 2018-2023
Mercedes-Benz 2016-2023
MG Hector 2016-2023
Nissan 2017-2023
Opel 2016-2023
Peugeot 2017-2023
Porsche 2017-2023
RAM 2018-2023
Renault 2017-2023
Seat 2016-2023
Skoda 2016-2023
Subaru 2017-2023
Suzuki 2016-2023
Toyota 2016-2023
Vauxhall 2016-2023
Volkswagen 2015-2023

Supported aftermarket head-units
Alpine
Kenwood
Sony
Pioneer
JVC
If you don't see your car in this list, email us for more infos:carlinkitbox@outlook.com
Tips before you buy
Only For vehicles with existing wired CarPlay.

At the same time, your vehicle must have a female USB-A port (not a USB port converted from a cigarette lighter). If your car supports wired CarPlay and with a standard USB port, then you can use it to upgrade your vehicle to wireless CarPlay. If your vehicle model has only a USB-C port, you can purchase the factory additional USB-C to USB-C cable to support your car for connection.

This item is NOT suitable for Aftermarket Android car stereos. If you use Carplay and Android Auto in Aftermarket Android Head Unit. You can choose Carlinkit Autokit. It's specially made for Android head units, which is suitable for model system versions above Android 4.4+.

This product currently does not support Sony head units.

Pls check if your car model and year is in our compatible lists before your purchase.
> View full details